Projects
Green Team Certification
Green Team Certification is a project in which we work with a representative from each varsity team to meet sustainability goals. It is designed to educate and encourage Yale athletes to be sustainability leaders on campus and to adopt environmentally-responsible practices for their teams. Once a team has reached a minimum threshold to meet the 'Green Team Certification' they are then entered into an annual competition across the different athletic teams to see which team can satisfy the most sustainability goals. The certification process is a checklist of various sustainability efforts that teams can integrate into their programs each season. The program is free and voluntary.
Green Team certification's primary objective is to decrease waste and to reduce the overall environmental footprint produced internally by athletics, however, it is also an important way for undergraduate athletes to learn about and engage with the ongoing sustainability projects at Yale. 
Despite the challenges due to the COVID-19 pandemic, including the decisions of some student-athletes to take a gap semester/year and the physical separation of teams due to housing situations, there was outstanding involvement in Green Team Certification during the Fall 2020 semester. As Green Team Certification moves into the Spring 2021 semester, changes continue to be made to help teams adapt to new methods of sustainability during the pandemic.
The fall of 2018 saw record Green Team Certification participation, with every varsity team on campus represented in the program. Heading into the spring, the Bulldog Sustainability team is excited to continue working with teams to improve their sustainable team practices.
The 2017-2018 school year saw record participation with 31 teams taking part in Green Team Certification. The expansion of the program to include certain club sports allowed more undergraduates to become involved in sustainability. Women's Swim and Dive was the top point earner, followed by Coed Sailing and Women's Gymnastics. Twelve teams ultimately became Green Team Certified for the school year.
During the 2015 to 2016 academic year, 13 teams achieved certification and competed to win the Green Team Certification competition.
Clothing Drives
Bulldog Sustainability regularly partners with Goodwill to collect used clothing and athletic gear. As always, Goodwill guarantees that all collected items are reused or re-purposed. The fall of 2018 drive saw record participation, with over 390 pounds of clothing collected from two bins on campus.
In the fall of 2017, collection bins were located at five different locations around campus, including undergraduate and graduate hubs. Thanks to everyone who donated, we were able to collect over 350 pounds of items!
In the spring of 2018, a second clothing drive was held with Goodwill. Two donation bins were located on campus targeting Yale staff. Over 250 pounds of clothing was collected for reuse.
Reusable Water Bottle Sales
The Bulldog Sustainability team designed Klean Kanteen reusable water bottles for the 2017 Harvard–Yale football game. In the weeks leading up to The Game, the water bottles were sold to both students and alumni. The water bottles continue to be sold at certain basketball and hockey games, as well as online.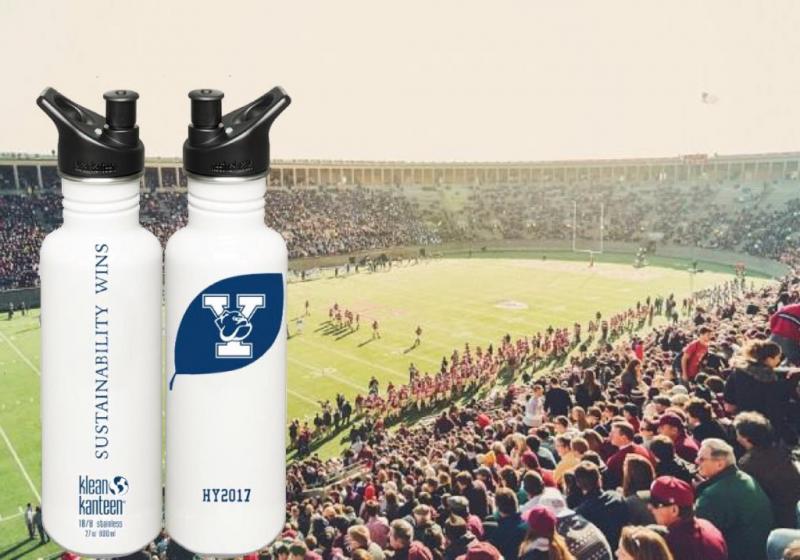 Laundry Usage Analysis
In the spring of 2017, Bulldog Sustainability launched a survey to sustainability captains to gauge teams' laundry habits. Using the metrics mined from the survey, Bulldog Sustainability was then able to offer best practices to save energy and water.
The team repeated the survey in the spring of 2018, more than quadrupling the number of club and varsity teams participating. Using this data, a laundry matrix was created to guide the laundry usage of teams. This document is available on the website under 'Resources'. 
Meet and Greets
Every fall and spring, the Bulldog Sustainability team hosts a meet and greet targeting sustainability captains as well as student-athletes on campus. At these events, students have the opportunity to meet Bulldog Sustainability representatives as well as ask questions about Green Team Certification. The meet and greets are also a valuable time for the Bulldog Sustainability team to receive direct feedback from athletic teams regarding their goals for the semester as well as sustainable improvements they would like to see at Yale.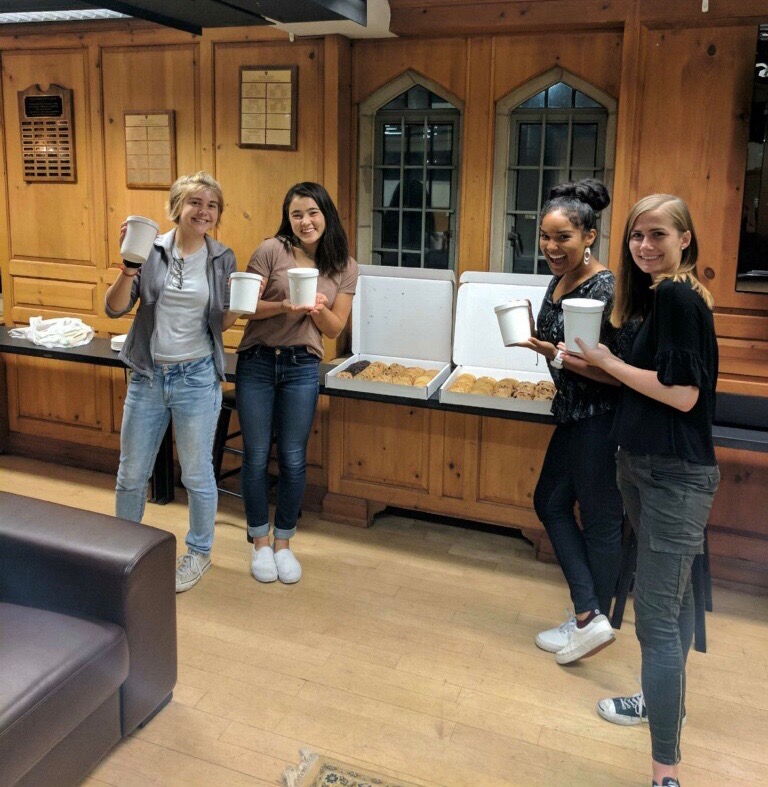 Monthly Newsletter
Every month, the Bulldog Sustainability team sends a newsletter highlighting sustainability in athletics as well as Green Team Certification updates and point opportunities. The newsletter reaches every student-athlete on campus.
Zero Waste Game Day
During January 2021, the Bulldog Sustainability team began working on a Game Day Guide for the Harvard–Yale football game. The guide provides instructions on how to tailgate in a sustainable way, what to bring to the event and what stays out, and it advises teams on how to reduce their ecological footprint. The team collected data on current best practices in sustainability with a special focus on large athletic events. Using the collated information, the team put together a framework for the Game Day Guide, which is expected to direct fans and other stakeholders on how to make future Harvard–Yale games sustainable events. Another aspect of the guide is a Sustainability Pledge that we anticipate will be sent to stakeholders––fans, teams, vendors, etc.––prior to the game. The team will be working to improve the guide throughout the semester with the longterm goal of making all athletic events at Yale more eco-friendly. 
In the fall of 2017, Bulldog Sustainability partnered with The Whaling Crew, Yale's undergraduate school spirit organization, to run an interactive recycling event at the Yale–Columbia football tailgate on Halloween. At this "Spooky-Gate," students were given a raffle ticket in return for recycling their tailgate trash. The winner received a photo at halftime with Handsome Dan!
For the 2016-2017 academic year, Bulldog Sustainability's Zero Waste Game Day initiative focuses on reducing tailgating trash from Yale College undergraduates. To make recycling easier, the initiative works to implement fun, game-based measures at the tailgates. A few of these changes include adding basketball backboards to dumpsters and creating a mobile recycling container to encourage students to utilize the proper bins. These modifications will have a measurable impact on trash produced by undergraduates, and Zero Waste Game Day will use social media platforms to raise awareness about their positive impact. 
Past Projects
Bike to the Bowl (BTB)
As an effort to reduce travel-related carbon emissions and promote health and well-being, Bulldog Sustainability led bike rides to all of Yale's home football games. Bulldog Sustainability previously partnered with Devil's Gear, a local bike shop, to promote Bike to the Bowl (BTB).
 
Paper Towel Composting
Launched in spring 2014, this program enabled the composting of paper towels used to clean exercise equipment in the Israel Fitness Center of Payne Whitney Gymnasium. The program was a sport-specific application of waste management. As of fall 2014, the paper towel composting program was successfully transferred to Yale Facilities.
Spring Shoe Drive
This program was launched to fill the need for shoes with those no longer useful for athletes. We developed outreach materials and formed a partnership with Easter Seals Goodwill to collect shoes in Payne Whitney Gymnasium. All bins were filled to maximum capacity over the course of the drive, and Goodwill guaranteed that all parts were reused or repurposed.
Sharp Shooter Recycling Challenge
Bulldog Sustainability supported Yale Hockey and sustainability by introducing the Sharp Shooter Recycling Challenges at its home games. The game tested hockey shooting skill and recycling knowledge in a fast-paced shoot-out of common waste items into the correct goal.
Yale Bowl Waste Assessment
Bulldog Sustainability sent teams to three football games at Yale Bowl to assess recycling statistics at the facilities. With these data, we evaluated the waste infrastructure and created a better understanding of fan behavior. We wrote a summary report of the results, and continue to look for strategies to improve waste disposal at the Bowl.